The Hermes-Lite is a low-cost direct down/up conversion software defined amateur radio HF transceiver based on a broadband modem chip and the Hermes SDR project. It is entirely open source and open hardware, including the tools used for design and fabrication files. Over 300 Hermes-Lite 2.0 units have been successfully built.

www.hermeslite.com
Late last year I received my Hermes Lite SDR 2 plus N2ADR filter board. However, the enclusure, fan and other accessories did not arrive in time for the xmas holiday.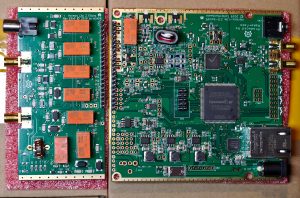 Now, in early 2020 I've finally assembled this amazing little SDR transceiver. The enclosure required a little modification in order to comfortably fit the PCB, but this was a simple job once I had access to the correct tools (thanks, Tampere Hacklab!).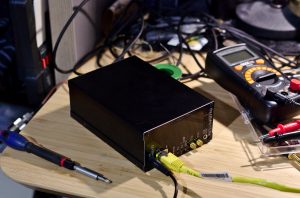 I was initially a little nervous about the complexity of the setup (loopback audio devices, PA bias adjustment, SDR software, interfacing with hamlib etc) but amazingly everything worked on first attempt.
Rather than manually adjust the PA bias I used the simple automatic tool from James Ahlstrom (N2ADR) available here: http://james.ahlstrom.name/hl2setup/
Note: Despite being built in Ubuntu, the binary ran perfectly under Fedora 30.
Setting up Quisk was similarly straightforward; I downloaded the latest version, installed dependencies (in my case under Fedora 30, fftw-devel and pulseaudio-devel), added a new radio and configured the band pass filters. A little time was then spent configuring radio control in both wsjtx and Quisk and I was quickly on the air.

First FT4/8 QSOs using this radio (~6W to an indoor 20m dipole) were:
G6NNS, JO02, 14.081998, FT4, Sent: +04 Rcvd: -11
GB8HNY, IO93, 14.075045, FT8, Sent: +03 Rcvd: -24
PD7RF, JO22, 14.075867, FT8, Sent: +09 Rcvd: -05
PF2JV, JO22, 14.076013, FT8, Sent: -15 Rcvd: -25
Many thanks to the above operators for (unbeknownst to them) assisting with the first on-air tests!
Testing other modes (SSB voice, FreeDV) and everything has also worked as expected. My only current issue is what appears to be a lack of a CW keyer in Quisk (or the Hermes firmware). My paddle only works as a straight key connected to the Hermes front panel.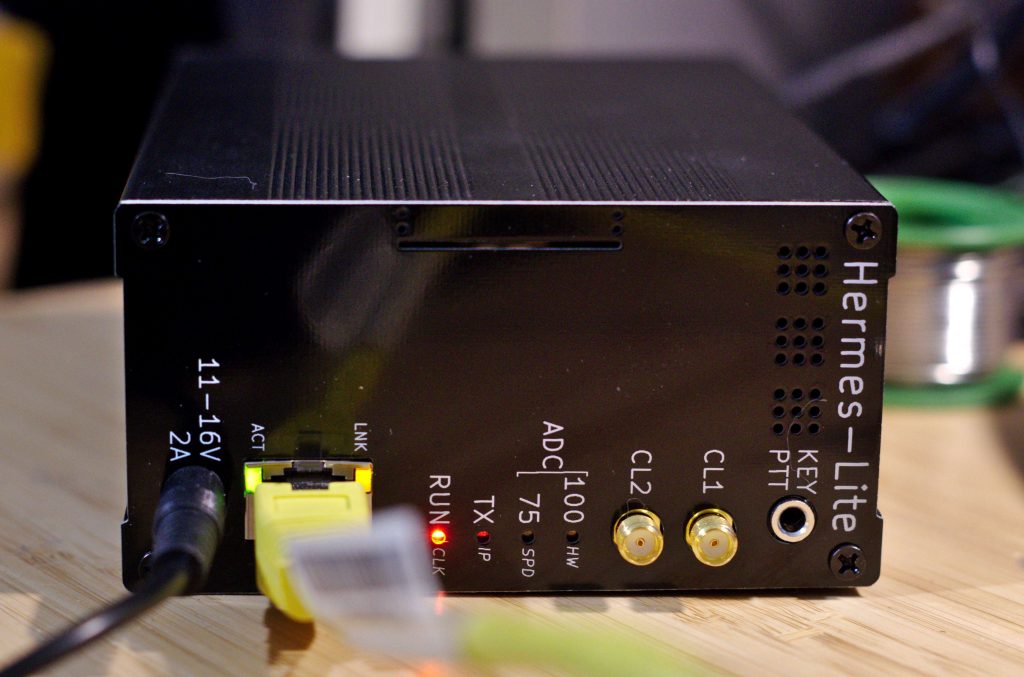 Future plans include a build based on the Hermes but with additional PA and integrated PSU. Watch this space!
Hermes Lite SDR details can be found at http://www.hermeslite.com/.
To purchase via group buy, check availability via https://github.com/softerhardware/Hermes-Lite2/wiki/Group-Buy.
Latest Quisk can be found at http://james.ahlstrom.name/quisk/.
A great introduction video by the designer, Steve Haynal KF7O can be found here: